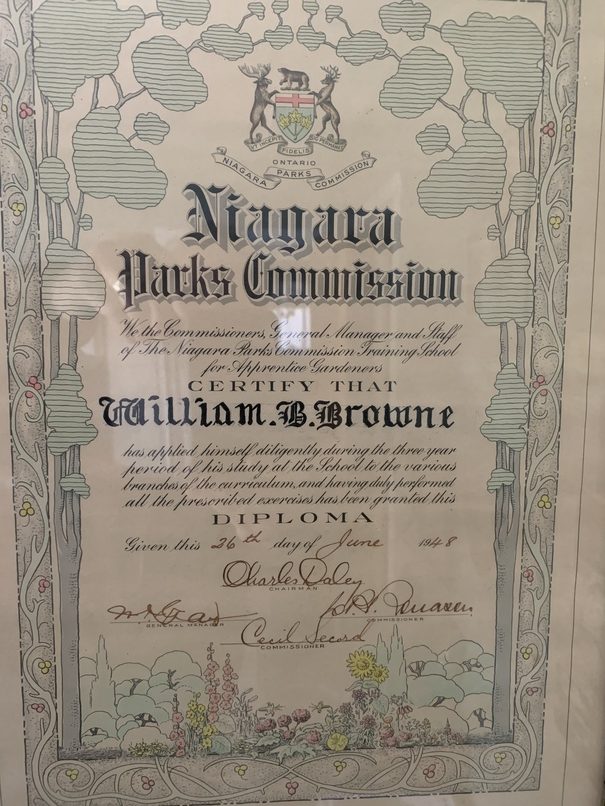 Obituary: William Browne NPD 1948
William Browne NPD 1948 passed away May 4, 2020. His family plan to make a family trip to visit the School of Horticulture in the summer.
Obituary of William Henry Browne | Garden Hill Cremation & Funeral …
Obituary of William Henry Browne
Legacy of William Henry Browne (Dad, Grandpa and Great Grandpa ) Born in Toronto on January 16, 1926 he grew up on a Market Farm along a stretch of road known as Brown's Line in Etobicoke, ON. At 17 he joined the Navy and after the war he enrolled into the Niagara Parks Commission School of Horticulture, Niagara Falls, Canada in 1945 – graduating in 1948. Niagara Falls is where he met and married our Mother Marcelle Thomas. His first job took him to Victoria, Vancouver Island, BC as Assistant Head Gardener at Butchart Gardens. They lived in a house on the grounds along with their first two children – Tom and Susan. In 1951 he moved to Waterloo, ON taking on the position of Park Superintendent for the City of Waterloo. During this era three more kids were added to the family – Joanne, Bill, Jr. and Marilynn. In the mid-50's he became involved with the Ontario Parks Association's restructuring. He was elected President in 1957. 1959-1973 he was employed with The Township of Scarborough as Scarborough Parks and Recreation Director 1973-1975 he took a job at Edmonton Parks as their Director of Maintenance and Construction. 1975 moved on to Burnaby Parks, Burnaby, BC. His last place of employment up until his retirement in 1993 was with Vancouver Parks as their Manager of Arboriculture and Horticulture. In the early 80's he pursued his singing passion and became a Barbershopper with New Westminster, BC for about 18 years. He travelled to many competitions with the Gentlemen of Fortune and the Four Fifties. Once retired he started Bill's Little Tree Farm on his daughter's property in Maple Ridge, BC. He specialized in uncommon tree types not readily available from most tree outlets. His emphasis was on small trees having unique shapes, leaf colours, leaf forms and most suitable for small gardens, patios and balconies. All his trees were grown from seed he collected from parent trees in Pacific North West or Southern Ontario. During this time he toured Riverview Hospital grounds in Coquitlam, BC looking for ornamental tree seeds. Riverview was noted to have many wonderful and near extinct trees. During this time there were plans to redevelop the land into various types of housing. A group of Riverview retired nurses along with Dad and his knowledge wanted the area preserved. They formed a volunteer group called Riverview Horticulture Society. They had weekly walks educating people about the special trees that were there. This finally got the governments attention. They have now began construction of new health care facilities on the land while at the same time preserving this Historical Arboretum. He enjoyed his family which included 5 children, 13 grandkids and 14 Great Grandchildren. Through many years he took great interest in tracing his family tree and loved his home and garden, which itself is a Mini Butchart Gardens. What turned out to be his last day at home at age 94 his son Bill, Jr. took him for a drive through Riverview Hospital grounds. He made a statement during this drive 'I think this is the end of the trail for me and I'm going to miss my home'. Sadly this turned out to be true as the very next day he was admitted into the hospital. William Henry Browne was a man who through his passion, determination and hard work in the horticulture field along with raising a large family earned his mark in life which should be celebrated.